Brain droppings from the TMK crew. Read, reply, repeat.
If you've got something cool, interesting, funny, or weird about Mario, let us know and we might post it here!
Note: Click a headline for a permanent link to the article.
February 12, 2015
Though Mario vs. Donkey Kong: Tipping Stars will be a digital-only release in the U.S. and Europe, the pack shots released today by Nintendo of Europe show that they plan to sell download codes at retail stores as well.
Releasing a game case just to hold a download code might seem silly at first, but having something physical in stores will help drive more sales. And with its bold red background and a Mini Mario that seems to be popping out of the cover, this package is sure to catch the eyes of shoppers.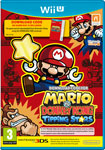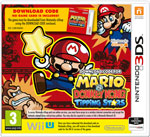 In Japan, Nintendo will include the actual Wii U game disc or 3DS game card in the cases, which means that the neat artwork won't be obscured by the "Hey, you're only buying a download code!" notices.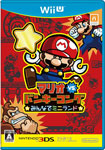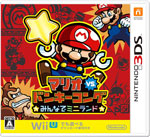 And now, a question for our readers: Would you rather buy the game case for a code, or save the extra step and order it from the eShop?
February 5, 2015
The Daily Show host Jon Stewart has spiced up his jokes with Mario references before, but last night's show included one with a twist.
In the first segment, while joking about how Senator Mitch McConnell looks like a turtle, a few seconds of Super Mario Bros. gameplay was shown, featuring a green Koopa Troopa on a pipe in World 1-1. If you're familiar with the game, you might have noticed something odd: There's not supposed to be a Koopa Troopa there.
Here's a screencap from
Comedy Central's stream
: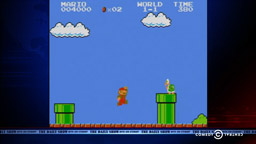 And here's the section from World 1-1 that was shown, with correct enemy starting points, taken from our
map of the level
:
Assuming The Daily Show didn't make their own Super Mario Bros. ROM hack just for that one segment, the source of the footage is unclear. Did they grab the footage from somebody else's ROM hack? Or do they have really good video editors with lots of SMB experience? Tell us what you think in the
forums
, or, send us an email and we might include it in our next mailbag article.
For more "The Daily Show with Jon Stewart" Mario references, visit our
TV sightings
section.
January 14, 2015
Today's Nintendo Direct was packed with release dates, game announcements, and amiibo news. Let's take a look at what's new in Mario's world.
* Puzzle & Dragons: Super Mario Edition was announced for Japan a week ago, and today's Direct revealed a Puzzle & Dragons Z + Puzzle & Dragons: Super Mario Edition combo pack for North America, Europe, and Australia. The two-game set is currently scheduled for a May release.
* A Super Mario series of amiibo was unveiled. The lineup includes six figures: Mario, Luigi, Peach, Yoshi, Bowser, and Toad. They will look different than the Super Smash Bros. amiibos, and, like some of the Smash Bros. figures, they can be used to open an Amiibo Party Mode in Mario Party 10. The Toad amiibo will unlock an 8-bit Toad sprite hunt in Captain Toad: Treasure Tracker in a future game update.
* Starting today, you can download Super Mario Galaxy 2 from the eShop and play it on your Wii U -- without going into Wii Mode. More Wii game downloads will be available in the future, including Donkey Kong Country Returns. Nintendo has Super Mario Galaxy 2 priced at half off ($9.99) for its first week on the eShop. Donkey Kong Country Returns will release in Japan on January 21, and in Europe on January 22.
* Mario Party 10 release dates were announced: March 20 in North America and Europe, March 12 in Japan, and March 21 in Australia. A limited edition bundle with a Mario amiibo packed in is also planned.
* The Mario vs. DK game shown at E3 2014 is now called Mario vs. Donkey Kong: Tipping Stars. Nintendo also announced a 3DS version today, and if you purchase the Wii U version you'll get a free download code for the 3DS version, and vice-versa. Both versions will launch in North America on March 5, in Japan on March 19, in Europe on March 20, and in Australia on March 21.
What are you most excited about? Let us know in the
forums
!
Links:
Nintendo Direct 01.14.2015 (NOA)
Nintendo Direct 2015.1.14 (NCL)
Nintendo Direct 14.01.2015 (NOE)
Nintendo Direct 14.01.2015 (NAL)
January 11, 2015
WTMK
is now broadcasting a special playlist of all the music
least played
on WTMK during 2014.
Confused? Don't worry about it - just tune in and listen to some tunes you probably haven't heard in quite a bit!
Link
WTMK: All Mario Radio
August 29, 2014
When testing out the new
Mario Kart 8
DLC, a blue shell threatened to destroy White Shy Guy's attempt at Gold. Luckily, he managed to win by a... mask?
Youtube:
Wii U - Mario Kart 8 - Twisted Mansion - Blue Shell at Finish Line (White Shy Guy & Mercedes Roadster)
June 10, 2014
Earlier today, Nintendo announced
Captain Toad: Treasure Tracker
,
Mario Maker
,
Mario Party 10
, and
Mario vs. Donkey Kong
, all for Wii U. Captain Toad's game is due out later this year, and the others will launch sometime in 2015.
New footage was shown from
Yoshi's Woolly World
, which used to be known by its working title "Yarn Yoshi."
Nintendo's E3 Digital Event also unveiled a line of NFC figurines called "amiibo." According to
Nintendo's E3 site
, amiibo connectivity is currently planned for
Mario Kart 8
,
Super Smash Bros. for Wii U
, Captain Toad: Treasure Tracker, Mario Party 10, and Yoshi's Woolly World. The first wave of figures will be released near the end of the year for the holiday shopping season.
Finally, release dates were announced for
Super Smash Bros. for Nintendo 3DS
: October 3, 2014 for North America, and September 13, 2014 for Japan.
Link:
Nintendo @ E3
May 29, 2014
An advertisement for Super Smash Bros. at E3 2014 on Nintendo's official YouTube channel today included footage of the upcoming Smash Bros. themed GameCube controller and Wii U adapter. See the video
here
.
Nintendo of America also posted an image on their official Twitter: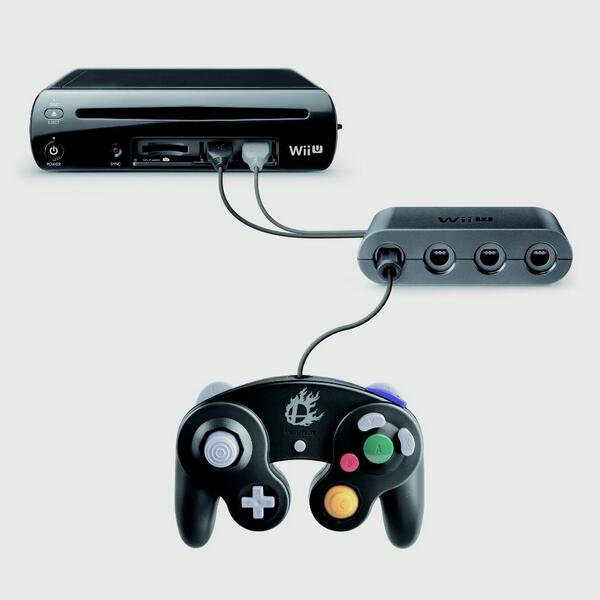 May 25, 2014
To celebrate the launch of
Mario Kart 8
, we're broadcasting a special selection of Mario Kart tunes! Tune in now for 8 days of Mario Kart music!
Link:
WTMK: All Mario, All the Time
March 17, 2014
Go play some Luigi's Mansion -- or Yoshi's New Island, in a pinch.
March 12, 2014
My battle with
Donkey Kong Country: Tropic Freeze
continues. While Scrooge McCranky is a fantastic addition, I must say that I miss his banter.
Anyone else feeling shorted on Cranky's... crankiness?
January 30, 2014
Luigi's 30th anniversary year has ended, and the sales data is in. Three games released last year featuring Mr. Green 'Stache sold more than one million copies worldwide:
Mario & Luigi: Dream Team
,
New Super Luigi U
, and
Super Mario 3D World
. Additionally,
Mario Kart Wii
, which launched in 2008, sold over a million units in 2013, bringing its lifetime total to over 35 million.
Yesterday, Nintendo released an updated list of some of its million-seller titles for Wii U, 3DS, and Wii. Here are the games featuring Mario, Luigi, or DK that were listed, along with the global units sold in millions through December 2013.
*
Donkey Kong Country Returns 3D
(3DS) - 1.43
*
Luigi's Mansion: Dark Moon
(3DS) - 3.79
*
Mario & Luigi: Dream Team
(3DS) - 2.00
*
Mario Kart 7
(3DS) - 9.35
*
Mario Kart Wii
(Wii) - 35.26
*
New Super Luigi U
(Wii U) - 1.51
*
New Super Mario Bros. 2
(3DS) - 7.63
*
New Super Mario Bros. U
(Wii U) - 3.89
*
Super Mario 3D World
(Wii U) - 1.94
This year,
Donkey Kong Country: Tropical Freeze
,
Yoshi's New Island
, and
Mario Kart 8
are the next games set to be released. Which one do you think will sell over a million first? Let us know what you think in our forums!
Link:
Supplementary Information about Earnings Release (.PDF)
(NCL)